UI Health Warns: Don't Let Your Guard Down – Get Your Flu Shot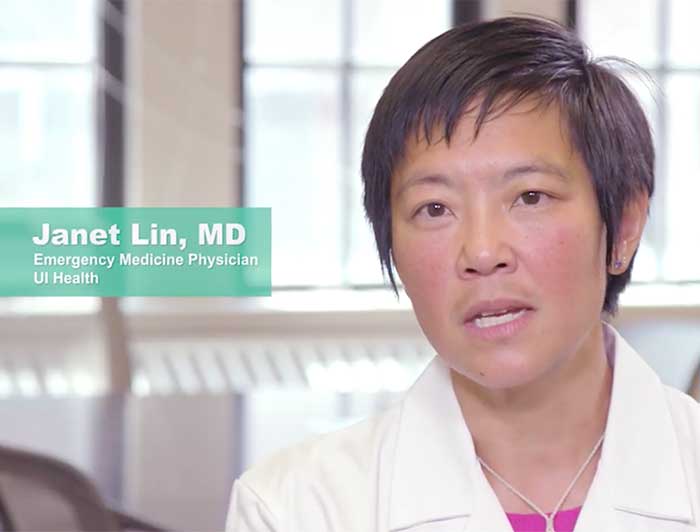 UI Health is asking people to "defend yourself with the flu shot" through a highly motivational and educational flu season campaign.
An engaging video, called "Don't Let Your Guard Down — Get Your Flu Shot," features Janet Lin, M.D., emergency medicine physician at UI Health, talking about the importance of applying COVID-19 safeguards for flu prevention.
Lin said, "Everything that we've put in place for COVID-19 applies for flu, such as wearing a mask; washing your hands frequently with soap and water or using alcohol hand sanitizer; maintaining a six-foot distance; and washing high touch surfaces helps for flu. And, get your flu vaccine!"
Dr. Susan Bleasdale, medical director of infection prevention and control at UI Health, has been leading the hospital's COVID-19 efforts since the outbreak appeared in the U.S. She sat down with WTTW – TV, a PBS station in Chicago, to answer viewer questions about the convergence of COVID-19 and the flu. Bleasdale said, "Early on, the guidelines were that if you were positive for the flu you weren't initially tested (for coronavirus). The thought was that if you had another likely diagnosis it would not be likely to be also COVID-19. But we do have data from the early cases in China and other countries before it came here — and in our own data internally — that there is co-infection with other respiratory viruses and with influenza."
Bleasdale further explained, "Whether or not there's some cross-reaction between the tests and having the positives related to other respiratory viruses is not quite clear or if it is really, truly co-infection. These cases are being recorded and people are tracking this so we have some early data that there is co-infection in pediatrics we are seeing, I believe, out of China. And then here in the United States we have seen some small (number of cases being tracked) showing information around co-infection with other respiratory viruses."
Moreover, UI Health is reaching out to patient populations who are more likely to be hospitalized from the flu. The hospital's asthma patient support group, which brings together adult asthma patients and health care providers to talk about asthma triggers and treatments in a supportive environment, hosted a virtual meeting to discuss the influenza and COVID-19 vaccines, as well as vaccine fatigue.
And the hospital hosts an annual Flu Shot Day for its employees, administering on average 4,000 doses to hospital and clinic staff and volunteers.
Learn more about how UI Health offers flu shots at centrally located pharmacy locations and more on flu prevention.
COVID-19 Vaccine Resources