Role of Hospitals: North Mississippi Health Services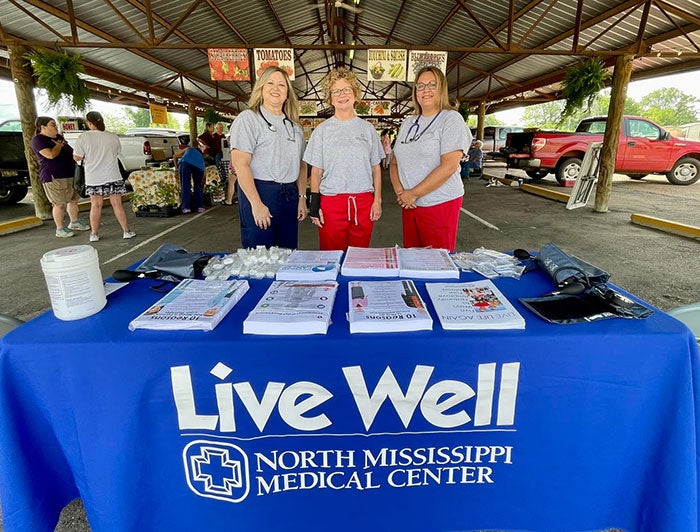 The mission of North Mississippi Health Services, which serves 24 counties in north Mississippi and northwest Alabama and is headquartered in Tupelo, Miss., is "to continuously improve the health of the people of our region."
This year, NMHS decided to take that message outside the walls of their facilities and to the street – specifically S. Spring St, in downtown Tupelo. That's because in an effort to improve community health and wellness, NMHS has partnered with the Downtown Tupelo Main Street Association to serve as presenting sponsor for the association's annual Tupelo Farmer's Depot. The Farmers' Depot is a weekly farmers' market where community members can purchase locally sourced produce, honey, fresh flowers, baked goods and much more.
"We are excited to take part in this mission-aligned community effort," said NMHS President and Chief Executive Officer Shane Spees, prior to the farmers' depot kickoff. "What better way to provide the best patient- and family-centered care than to start that at home by preparing healthy fruits and vegetables for you and your loved ones. We are excited to join the Downtown Tupelo Main Street Association on this venture."
As part of their sponsor-related offerings, NMHS has been presenting health-focused programs on Saturday mornings throughout the summer. They have provided health screenings by North Mississippi Medical Clinics, as well as an educational program on women's breast health by the Breast Care Center of North Mississippi Medical Center. Future programs include heat stroke awareness by NMMC'S Advanced Practiced Clinician Fellows and lifestyle medicine by NMHS' Dr. Richmond McCarty, among others.
The Tupelo Farmers' Depot opened on May 7 and concludes its run Sept. 24.
Resources on the Role of Hospitals