Hospital Leaders Urge Their Mississippi Community: 'Trust Your Doc. Get the Shot!'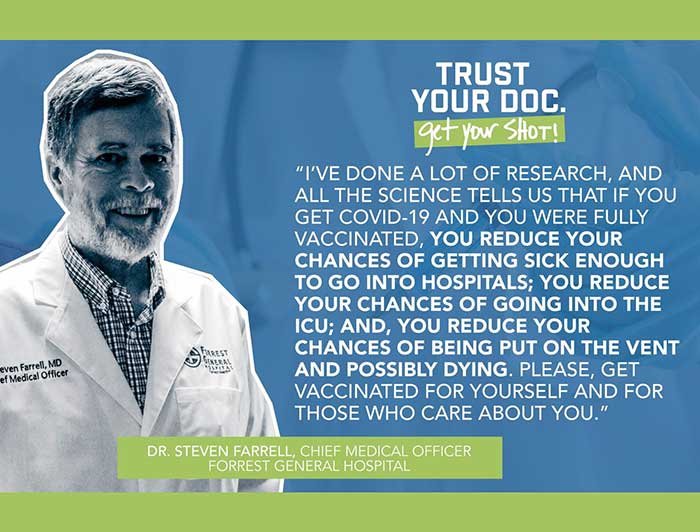 Photo Credit: Forrest General Hospital
Health care leaders in Hattiesburg, Mississippi, have joined forces to encourage community members to get the COVID-19 vaccine. It's all part of a campaign called "Trust Your Doc. Get the Shot!" The participating clinicians say this message is more important than ever as COVID-19 case numbers, hospitalizations, intensive care unit admissions and deaths rise, fall and rise again in Hattiesburg and across the state.
In Forrest County, where Hattiesburg is located, just over 38% of the population is fully vaccinated against COVID-19. In Mississippi, not quite 54% of the population is partially vaccinated, ranking it 48th among the 50 states. Only Idaho and Wyoming have lower COVID-19 vaccination rates.
A dedicated "Trust Your Doc" website highlights educational and inspirational messages and recommendations about COVID-19 vaccination from trusted voices in Hattiesburg's medical community. These health care professionals acknowledge that people may have questions about getting the COVID-19 vaccine and booster and encourage those who do to reach out to a trusted physician in making the decision.
Steven Farrell, M.D., chief medical officer at Forrest General Hospital, is one of the "trusted voices" featured on the website. His message to the community: "I've done a lot of research, and all the science tells us that if you get COVID-19 and you were fully vaccinated, you reduce your chances of getting sick enough to go into the hospitals; you reduce your chances of going into the ICU; and you reduce your chances of being put on the vent and possibly dying. Please, get vaccinated for yourself and for those you care about you."
For those "still on the fence" about getting vaccinated, Cherie Papizan, M.D., an internal medicine specialist at the hospital, shared this message: "Millions have taken the step like I have and are doing fine. By getting vaccinated, you are also helping keep our hospitals and health care workers from becoming overwhelmed with patients. There is a peace of mind that comes with knowing you've done your part."
The "Trust Your Doc" website features a friendly, person-centric design that enhances the user experience. It links directly to a variety of locations — including clinics led by Forrest General Hospital, Merit Health Wesley and the state health department and at retail stores — where people can make an appointment to get their initial COVID-19 shots or booster. Vaccine and booster eligibility information is clearly outlined on the website. Once people get their vaccine, they're encouraged to let friends and family know and share their news on social media channels with the hashtag #getyourshothburg.
Forrest General Hospital, the flagship hospital of Forrest Health, offers comprehensive information about COVID-19 vaccination, variants and treatment on its website.
COVID-19 Vaccine Resources