Henry Ford Health Overcomes Challenges to Vaccinate Staff and Communities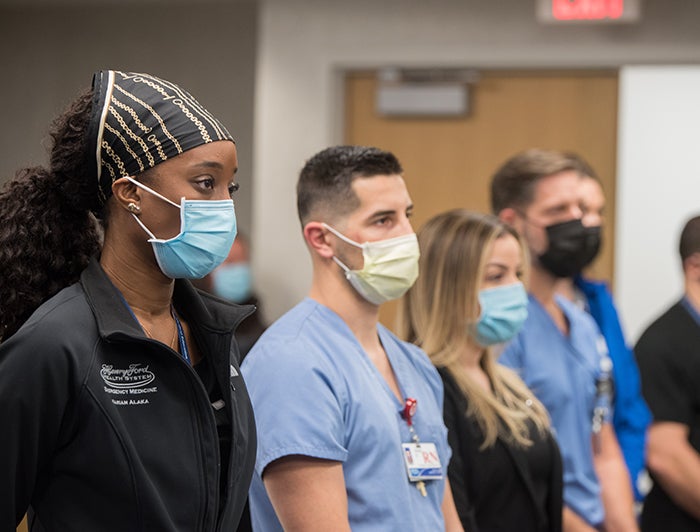 Photos courtesy of Henry Ford Health System
As one of the largest employers in metro Detroit with over 30,000 employees, Henry Ford Health System faced a huge challenge in vaccinating its employees and the wider community. Henry Ford was the first health system in Michigan to require COVID-19 vaccination for its workforce with a September 10, 2021, deadline. As of October 5, 99% of staff were compliant with the requirement.
Since the rollout of vaccines, Henry Ford has played a vital role in contributing to Michigan's overall vaccine efforts by being involved in the administration of more than 600,000 doses of vaccine throughout the region and communities it serves.
Background
On December 11, 2020, when the vaccine was authorized for use among health care workers, preparations for a vaccine rollout had already been underway at Henry Ford. The health system had proactively placed orders for specialized freezers several months and were installed by early December, well ahead of the arrival of the Pfizer and Moderna vaccines. Henry Ford began vaccinating its frontline healthcare workers on December 17.
As vaccine eligibility expanded, Henry Ford organized a wide range of vaccination events – from large, centralized vaccine sites to neighborhood pop-up clinics. From the outset, this was made possible by a coordinated approach comprising multiple teams of leaders and support teams to ensure people had a positive vaccination experience and the process was seamless and convenient. By February 26, 2021, Henry Ford had administered more than 122,000 doses of the COVID-19 vaccine and had fully vaccinated approximately 56,000 people.
From March through May of 2021, the health system served as the official health system partner for Michigan's mass vaccination site at Ford Field in Detroit, a collaboration with the state of Michigan, FEMA, Detroit Lions and other local community partners. Henry Ford served as the medical director for the site, providing onsite expertise and oversight for vaccine administrations and medical care, and assisting with logistics and operations. More than 275,000 doses of vaccine were administered at Ford Field, which was a national model for administrating vaccine. Steven Rockoff, D.O., service chief of emergency medicine at Henry Ford West Bloomfield Hospital and medical director at the site, called Ford Field a "top performer" of the 32 federal vaccine sites for vaccine administrations.
"Our goal was to maximize our efforts to reach as many people as possible. COVID-19 cases were surging in Michigan at the time so it was a race to save as many lives as possible," Rockoff said at a virtual media briefing on the last day vaccinations were administered at the site.
Vaccines were administered to people of diverse backgrounds, including those with special needs. Interpreters were on site to share important information and give instructions in 24 languages to people who needed interpreter assistance.
The mass vaccine site helped catapult the number of people vaccinated in Michigan from 3 million to 4 million by end of May.
Most recently, Henry Ford has advocated for continued vaccinations, back-to-school safety, mask wearing and began administering booster shots for immunocompromised individuals as well as those eligible to receive the Pfizer booster shot.
Henry Ford has been a study site for four COVID-19 vaccine clinical trials: Moderna's two-dose adult vaccine and children's vaccine (ages 6 months to 11 years old) and Johnson & Johnson's adult one-dose and two-dose vaccine.
The Approach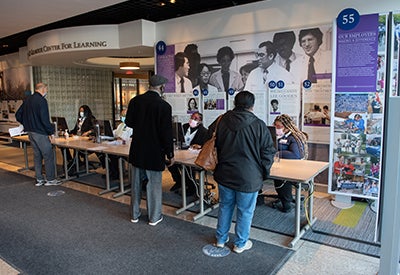 Education and outreach. In a coordinated multidisciplinary effort involving the public and community relations teams with various departments of the medical staff, Henry Ford led 500 virtual educational presentations, webinars and Q&A sessions and presentations that reached many thousands of people at workplaces, places of worship, community groups, chambers of commerce and more. Presentations were delivered in a question-and-answer format with content driven by the unique needs of the group. A successful in-person program at the largest medical laundry facility in southeast Michigan brought Henry Ford doctors onsite to answer employees' questions. By the end of the day there was a nearly 50% rise in vaccinations. Of late, Henry Ford has received increased requests for continued education after COVID-19 cases continued to climb and public interest in a third booster shot and Pfizer's FDA approval became more widespread.
Global goals, local partnerships. Henry Ford's efforts to expand vaccinations outside of the hospital setting has fallen under two main enterprises: The Global Health Initiative (GHI) and the Henry Ford @ Work program.
GHI is Henry Ford's existing multidisciplinary program to address the health challenges facing vulnerable and marginalized populations, with a focus on southeast Michigan. Calling the pandemic "one of the most significant health challenges in the last 100 years," Henry Ford acted swiftly to incorporate a COVID-19 response team under the GHI banner. In partnership with the Detroit Health Department, GHI opened one of the first COVID-19 rapid testing centers in the country. Through this partnership, GHI provided testing to staff and residents at nursing homes, schools, prisons and other high-risk congregrate settings. The team quickly expanded to hundreds of mobile runs and community-based testing sites, eventually administering more than 30,000 tests.
The team's first major community vaccination clinic came in February, in partnership with the Detroit Health Department. Called Senior Saturdays, the clinic offered vaccinations to the most vulnerable and eligible vaccine groups under state guidelines. At one of the city's largest churches led by a vaccine advocate pastor deeply trusted by the community, GHI vaccinated more than 1,000 seniors every Saturday for four weeks. Collectively, the GHI team organized and executed more than 200 events across six counties in southeast Michigan to get shots in arms. The mobile health units used customized vans designed by Ford Motor Co.'s innovations arm, Ford X, to carry COVID-19 vaccines safely to numerous sites including places of worship, city halls, festivals and the parking lot of fast-food restaurants. Additionally, GHI focused on reaching communities in which language, transportation and other social determinants of health barriers were prevalent. Most recently, the mobile health unit's team of nurses and medical assistants have expanded their vaccine outreach to patients who are homebound and don't have the means to get to a vaccine clinic.
The Henry Ford @ Work program, the health system's employer partner program, also was a key driver of vaccinations. This direct-to-business division offered tailored health care services for employees, including on-site and near-site clinics, mobile units and telemedicine. The team focused on southeast Michigan but is reaching as far north as Traverse City, impacting sectors such as energy, manufacturing, education, public utility, airline and government. The program has been instrumental in COVID-19 vaccination efforts and offers a Return to Work Navigator Program to help employers manage team members who may require further assessment and follow-up.
Always top of mind is empowering local leaders, and area residents to overcome vaccine hesitancy in their own communities. To this end, the team has published a specific guide with advice for discussing the pandemic. "If you have friends and family who are hesitant to get vaccinated, the best thing you can do is engage them in a genuine, respectful conversation," said Aimee Richardson, a health coach with Henry Ford Health System. "There's a technique we use called motivational interviewing. It's a way to make sure you move the conversation forward, preventing roadblocks that might come up." It's open to Henry Ford employees as well as community members.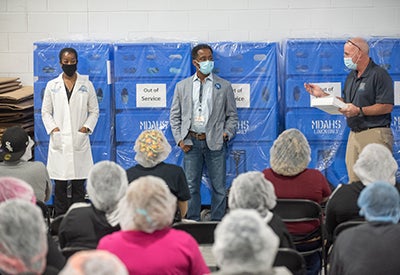 Social media and other communications. Henry Ford's extensive public relations, marketing and communications teams have executed a multipronged campaign to educate the community and share vaccine resource information. Between December 2020 and July 2021, the health system shared 818 posts about the vaccine across its social media channels. This effort resulted in 5 million total impressions, 106,064 total likes, and more than 10,000 comments. Henry Ford has published over 100 articles about various aspects of the COVID-19 vaccine – and the work is not done yet. And like many health systems, Henry Ford uses its online presence to emphasize vaccine safety and efficacy, and dispel myths. An up-to-date library of informative videos addresses some of the most pressing questions that people have when it comes to getting vaccinated. The social media team's work also centers on fact checking and dispelling vaccine myths.
Results
As of mid-September 2021, Henry Ford has vaccinated 98% of its workforce. Over 330,000 people — employees, patients and community members —have been fully vaccinated.
From February to August 2021, GHI administered 26,950 vaccine doses. Twenty mobile vaccination clinics also were established in schools, vaccinating up to 250 students, parents and community members. For people who are homebound or have transportation challenges, GHI now offers an in-home option.
To date, Henry Ford @ Work delivered over 24,000 vaccinations and COVID-19 tests and completed almost 2,400 antibody tests at employer partner sites.
Lessons Learned
Early on, Henry Ford faced vaccine shortages and fluctuating supply. More recently, the most pressing need has been managing staffing shortages. Other challenges include planning logistics and operations on short timelines, identifying key resources and processes, and structuring an order of command
Offering education and outreach at every step in the process has been arguably the most important part of the overall vaccination effort. Making sure messages are delivered in a variety of mediums — from digital to in-person conversations — also is key to keeping the health system connected to communities. For example, when COVID-19 cases increased in Dearborn, a Detroit suburb, the health system partnered with the Dearborn Chamber of Commerce to develop and roll out vaccine education programs. Henry Ford is planning more education outreach for when vaccines become available to young children.
Staying nimble in various developing situations has worked to Henry Ford's advantage. For example, when interest in the COVID-19 shots began to wane, FDA approval of the vaccines and expanded eligibility became important points of emphasis in communications, encouraging those who were hesitant or resistant to make a vaccination appointment. As booster doses are becoming available to broader groups of people, Henry Ford has provided clear and consistent communications on the frequently changing guidelines.
As the fight against COVID-19 continues each day, Henry Ford is constantly monitoring the communities it serves for spikes in cases and dips in vaccination rates. Since the Pfizer vaccine received full FDA approval, Henry Ford has leveraged this information to encourage holdouts to make a vaccination appointment. The health system also is communicating with immunocompromised patients to encourage third doses of mRNA vaccine. By offering vaccines now at primary care sites in the health system, patients will be able to get vaccinated against COVID-19 and influenza in the same visit. As vaccine approval for younger populations gets the green light, plans are already underway to administer vaccinations to this group.
COVID-19 Vaccine Resources